Everyone is welcome to join us right now. By reading the following sentences, you can find out more about the improvements, codes, and other important issues: Act 2 Inscryption Guide The second act of Inscryption is jam-packed with secrets that players can find. Many of these are clues for the continuing narrative, but a few of them will affect your gameplay as early as Act 3. We've compiled a list of all the Secrets you should look for below if you want to learn everything there is to know about Inscryption.
Also, Read: Cookie Alliance Teams Season 6 Guide 2022
About the Game and Act 2 Inscryption
---
Rare
Great Kraken – Obtained after traveling to the top of the tower and clicking on the tentacle.
Mole Man
Horkkall
Mantis God
Urayuli
Ouroboros
Normal
Rabbit – This does not show up on the card collection screen but can be found in a chest inside the third level of the tower.
Squirrel
Cat
Elk Fawn
Bullfrog
Squirrel Ball
Stoat
Warren
Wolf Cub
Elk
Field Mice
Hawk
Grizzly
Salmon
Spore Mice – Obtained from the Mycologist
Undead

Rare
Bone Heap
Headless Horseman
Drowned Soul – Obtained from the well left of Grimora.
Dead Hand
Tomb Robber
Necromancer
Normal
Mummy Lord
Skeleton
Gravedigger
Draugr
Skelemagnus
Sporedigger – Obtained from the Mycologist
Banshee
Bone Lord's Horn – Obtained from pledging to the Bone Lord after giving the Ancient Obol to the Sarcophagus with red eyes.
Zombie
Left and Right Broken Obol – Two separate cards.
Ghost Ship
Revenant
Sarcophagus
Bonehound
Pharaoh's Pets
The Walkers
Frank And Stien
Technology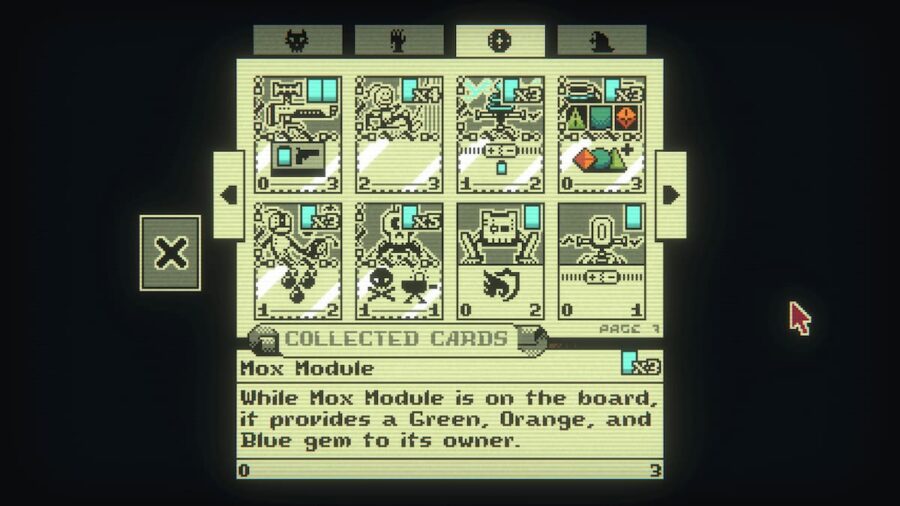 Rare
Plasma Jimmy
Energy Conduit
Curve Hopper
Mox Module
Mrs. Bomb
Shutterbug
Normal
Steambot
L33pbot
Null Conduit
Sentry Spore – Obtained from the Mycologist
49er
Energy Bot
Explode Bot
Automaton
Factory Conduit
Insectodrone
Steel Mice
Bolthound
Double Gunner
Sentry Drone
Buff Conduit
M3at Bot
Gamblobot
Thick Droid
Magick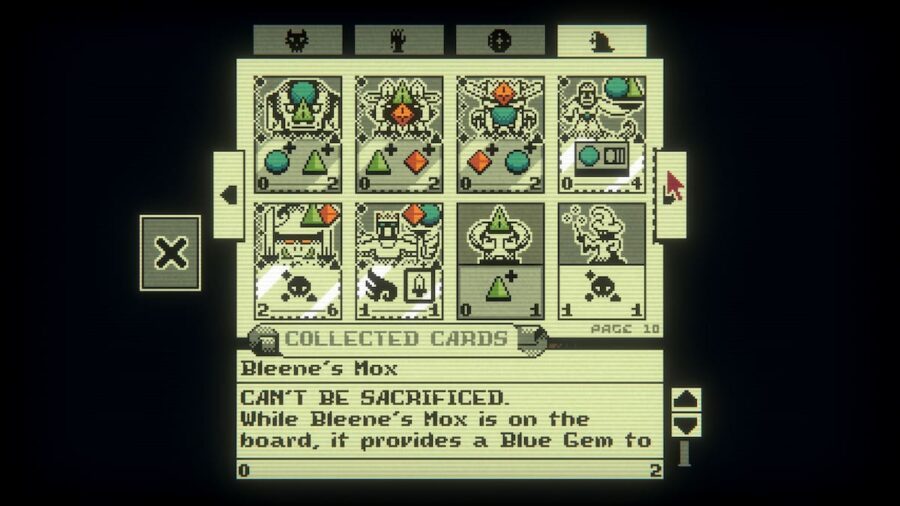 Rare
Bleene's Mox
Orlu's Mox
Gorani's Mox
Master Bleene
Master Gorani
Master Orlu
Normal
Mage Pupil
Gourmage
Muscle Mage
Orange Mage
Blue Mage
Gem Fiend
Emerald Mox
Sapphire Mox
Junior Sage
Mage Knight
Ruby Golem
Force Mage
Ruby Mox
Green Mage
Stim Mage
Practice Wizard
Blue Sporemage – Obtained from the Mycologist
Hover Mage
GamersExploit Tip
Don't worry if the item you're looking for is not included on this list. Post a comment on the article to stay up to date with the news. As required, we will update the code.
Any comments or recommendations would be greatly appreciated by the GamersExploit team.
Sapna Sehrawat